Alexander Biniam
alexander.biniam@ascellatech.com

Alexander joined Ascella on September 24, 2018 as a Business Analyst on the US Department of Housing and Urban Development (HUD) project in Ascella's Financial Management Solutions Practice.
Alexander started his consulting career in college consulting for a local manufacturer of structured insulated panels used by homebuilders all over the world! Overall, he has over 8 years of experience working on ERP solutions for the Federal government and the private sector. Prior to joining Ascella, Alexander worked for many corporations including Grant Thornton and CGI Federal.
Alexander is a graduate from Radford University. He has a Bachelor's Degree in Business Administration with a focus in Finance. He is also a Certified Agile Scrum Master (CSM).
Alexander is the oldest of six siblings. In addition to English, he speaks Tigrinya (which is the most spoken language in Eritrea).
Alexander is married and has a beautiful one-year old daughter. His favorite hobby is working on home improvement projects. His latest project was constructing a steel top gazebo that took four hours but well worth it in the summer :)
Alexander also have interest in coding and learning cybersecurity threats and solutions.
Welcome aboard, Alex!!! We wish you all the best at Ascella!!!
---
Scott Palmer
scott.palmer@ascellatech.com

Scott is a former Delta Solutions/CACI employee. He joined Ascella on October 22, 2018 as a Senior Consultant working on the HUD FDM and HCFSS project. Scott is very grateful to have joined Ascella as it gives him the opportunity to continue providing great work to HUD. He has been serving them for the past 7 1/2 years. During these years, he moved up from the #3 Cognos developer on the team, to now being the Security and Framework Administrator, as well as the primary report developer.
Scott graduated from Virginia Tech with a Bachelor's Degree in Business Management and a concentration in Human Resources. This background landed him his first job and allowed him to gain some experience developing company policies, templates, conducting internal audits etc. Scott is also very knowledgeable about CMMI, having once participated in a CMMI Maturity Level 3 Appraisal.
Scott enjoys talking about his hobbies. He would gladly acknowledge that he is "first and foremost a struggling golfer". When it came time to decide what he wanted to do for college, he actually decided to pursue a career as a head teaching professional. This took him first to North Carolina State and their PGA-accredited Professional Golf Management program which was a big change for a kid from New Jersey. But after about a year, Scott questioned the idea of mixing hobby with career and ended up transferring to Virginia Tech. Soon after, he met his future wife.
Scott has been married for the past 9 years. He has a 14-month-old son, and a cat. Scott and his family love to take road trips especially to Montana. Scott's wife was a trooper on the trip, going 6,000 miles while pregnant in a Jeep. This picture was taken at roughly 11,000 feet.
In addition to traveling and being a general golf/sports nerd, Scott is also a big-time car nerd. If you have any questions about a noise your car is making, please contact Scott.
Welcome aboard, Scott!!! We wish you all the best at Ascella!!!
---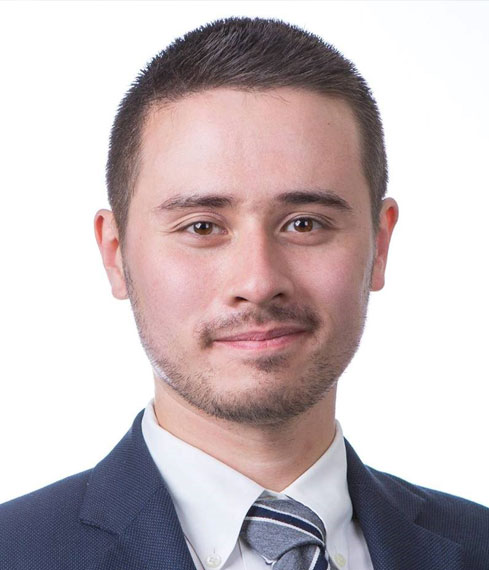 John Potter
john.potter@ascellatech.com

John goes by "Jack", he joined Ascella on November 19, 2018 as a CPIC/TBM Specialist on the DOI/Bureau of Safety and Environmental Enforcement (BSEE) Management Support Services' project.
Jack has over 5 years of federal consulting experience within small businesses in the DC area. He has been a contractor at the Food and Drug Administration (FDA); the Transportation Security Administration (TSA) and the U.S Department of Transportation (DOT).
Jack has a Bachelor's Degree in Business Administration and International Relations from the American University in Washington, DC, and an MBA from the Hult International Business School in London, UK.
Jack is the youngest of two brothers. He grew up in NYC and moved to DC 9 years ago.
Jack has a dog, Abby, a 5-year-old rescue. They both camp and hike together.
During his free time, Jack enjoys cooking, and trying new restaurants and new food. He also loves traveling, he has been to 46 countries so far.
Jack is very involved in the community. He has been volunteering his whole life. He is an Eagle Scout and a leader within the local chapter of a professional community service fraternity, APO (Alpha Phi Omega).
Welcome aboard, Jack!!! We wish you all the best at Ascella!!